Penalty Kick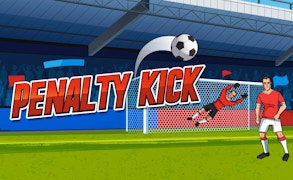 Penalty Kick
You may or may not know everything there is to know about football, but one thing that you've likely deduced is that it involves a lot of kicking like in Penalty Kick. A real-life game can take quite a long time and if teams are very active, then a lot of time can pass with neither side making a goal and therefore neither earning any points. In the case of a tie, it all comes down to penalty kicks. This is a one-on-one exchange where one team's kicker is against the other team's goalie. It can be tense and difficult, but very exciting to watch.
About Penalty Kick
When it comes to team sports, that is what players need to remember: They're on a team. Sure, there are some players who will try to stand out, but for the majority of the game, they're playing alongside their teammates. Victory is achieved by working together, but when it comes to penalty kicks, it comes down to the individual. It's a duel where you need to stare down your opponent as you prepare to take a shot. This game captures that feeling while upping the stakes of exploring penalty kicks taking place during the game and not just at the end of it.
How to Play
Penalty Kick is a 2D sports game with a 3D perspective about trying to score a goal through penalty kicks with the mouse. The cursor lets you choose where you want to aim the shot and clicking the left mouse button will make you kick. Your objective is to score as many goals as possible before you get shut out. The more goals that you make, the harder the other team will try to stop you.
Your main obstacle is the goalie who will move precariously back and forth in front of the goal. When you kick, the goalie will dive in an attempt to block it. As you make more goals, defenders will start to appear in front of the goalie, sometimes moving slightly and sometimes not. They won't move to block after you kick, but they can still block the amount of open space you have available.

You only have three balls in each run of the game. Every time a shot is blocked, you lose a ball and move on to the next shot. If you lose all of your balls, the run ends and you need to start over. You can regain balls by hitting the targets that briefly appear at the start of each kick and you can spend the points you earn at the end of a run to unlock different types of balls.

Tips and Tricks
To avoid the goalie's haphazard diving, alternate between taking high and low shots at varying angles. The defenders can prove troublesome, but there's no time limit, so you can wait for a good opening to weave a shot past them and the goalie.
Game Details
Developer: Unknown
Platforms: Web Browser (PC and mobile)
Languages: English
Gameplay Footage
FAQs
What is a Penalty Kick?
Like in other sports, football has penalties which typically occur when a player breaks a rule or harms another player. At that point, the opposing team gets the chance to take a penalty kick on the goal with the defenders and goalie standing in the way. They also occur at the end of the game in order to resolve a tie.
Games similar to Penalty Kick
From the title and the appearance, you can find this game in the Sports and Football Games categories on GamePix. Other titles in these spots include The Bowling Club, Street Ball Jam, Penalty Kick Wiz, and Football Legends.
What are the best online games?