Paintball Gun Pixel 3D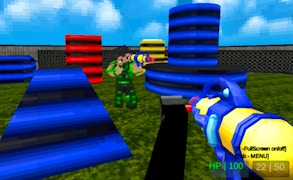 Paintball Gun Pixel 3D
Welcome to my review of Paintball Gun Pixel 3D, one of the most dynamic gun games to hit the gaming scene recently. It's a game that does away with good boys and naughty girls, leaving us with sharper, tougher characters ready for hardcore gaming.
Stepping into this game is like crossing over into another realm where Minecraft meets Mario. Indeed, the unique fusion of these two iconic games' aesthetics results in a visual feast of pixel games. With square, angular characters and landscapes reminiscent of retro gaming, Paintball Gun Pixel 3D offers a distinct twist on traditional battle games.
The gameplay is as thrilling as it gets; pure survival in an uncertain pixelated world. As one of the compelling survival games, it immerses players in a harsh environment where every decision can spell the difference between pixelated life and death. The stakes are high, making for an adrenaline-fueled experience unlike any other.
This sequel boasts an arsenal comprising five different weapons providing a diverse combat experience and amplifying its status among other war games. In addition, there are nine unique gaming worlds to explore. This variance in battle arenas keeps every round fresh and unpredictable and puts this game at the forefront of engaging sniper games.
A standout feature is its performance management; if ever you find your game lagging, change your quality to fastest for smooth gameplay. This underlying pragmatic feature ensures that Paintball Gun Pixel 3D stays accessible to all - be it those with high-end gaming rigs or modest setups.
In conclusion, Paintball Gun Pixel 3D is not just another generic shooting game; it's an exciting blend of nostalgia-inducing graphics and exhilarating gunplay that sets it apart from typical gun games. It's worth a shot if you're looking for something new but familiar in your gaming lineup.
What are the best online games?