Neon Brick Breaker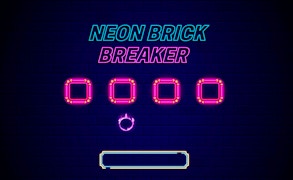 Neon Brick Breaker
Description
In Neon Brick Breaker, your goal is to guide a gleaming ball towards its target while bypassing a barrage of vibrant neon blocks. This retro-style game offers engaging block-breaking gameplay with an electrifying visual twist. With increasing difficulty and exciting boss fights at the end of each level, the challenge is to strive for 3 stars on all 5 levels.
How to play
Control the direction of your ball using your mouse or finger, depending on your device. Aim to hit the neon blocks with precision to clear a path towards the goal. Garner extra points by collecting stars scattered throughout each level. Defeat the boss at the end of each level by hitting it multiple times with your ball.
Tips and Tricks
The key to success in Neon Brick Breaker lies in precise aiming. Try to predict how your ball will bounce off blocks and walls, giving you greater control over its trajectory. Use these tricks to reach those hard-to-get stars and defeat challenging bosses!
Features
Retro-style arcade gameplay with a neon aesthetic.
Challenging boss encounters that test your precision and reflexes.
Addictive game mechanics that demand strategy and skill.
An easy-to-understand interface suitable for all types of players.
A leveling system that encourages repeated playthroughs for maximum scores.
What are the best online games?