Mini Switcher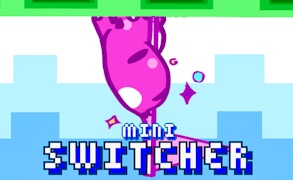 Mini Switcher
Description
In Mini Switcher, you'll take control of a little blob on an epic journey through 30 challenging levels. In this vibrant, gravity-defying arcade game, you'll manipulate the forces of gravity to navigate your blob past colorful enemies and complex obstacles. Every level presents a new challenge, each one unique in its own right.
How to play
Use the space bar or mouse click to switch the force of gravity and lead your blob character towards the goal. Avoid enemies and obstacles with careful precision. The difficulty increases progressively, with new mechanics introduced as you advance further into the game. Mastering the gravity switch is essential for survival.
Tips and Tricks
A key tip for Mini Switcher is to not rush through the levels. Remember to utilize gravity switches wisely, studying enemy movements before making a move. Pacing yourself will also help you overcome more complex obstacles as you progress.
Features
Vibrant Pixel Art Graphics: Retro-style pixel art that adds charm to an already exciting gameplay experience.
Addictive Gameplay: A challenging physics-based puzzle mechanic that keeps gamers hooked till the end.
Variety of Levels: Navigate through 30 unique and increasingly difficult levels filled with diverse enemies and obstacles.
Retro Soundtrack: Unique gaming experience complemented by a nostalgic retro soundtrack.
What are the best online games?