Match Earth Online Game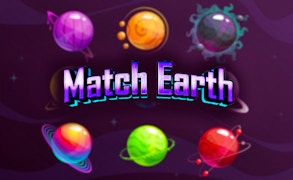 Match Earth Online Game
Description
Immerse yourself in the vast universe of Match Earth, a captivating match-3 puzzle game. Drift through cosmos, matching the colors of planets with their orbits, within your trusty spaceship. This game stands out with its relaxing gameplay and visually appealing graphics, providing hours of endless fun. Addictive and engaging, Match Earth is a game that can be enjoyed on both phone and tablet.
How to play
The primary control is your smartphone or tablet's touch screen. Swipe to move planets to their matching orbits or tap to fire at the approaching asteroids. Match 3 or more planets of the same color in a row to clear them and score points. However, be cautious not to collide with any asteroids as this could end your cosmic journey!
Tips and Tricks
To maximize your score, focus on creating chains or combos. The more chains you make, the higher your points. Prioritize eliminating asteroids near your spaceship and for an added edge, aim for power-ups that aid in clearing obstacles quicker.
Features
Addictive Gameplay: Easy to learn but hard to master match-3 mechanics ensures an engaging playthrough.
Vibrant Graphics: Eye-catching visuals that make navigating through space a delightful experience.
Cross-Platform: Game can be played on both phone and tablet.
Diverse Obstacles: Various asteroids presenting unique challenges.
Frequent Power-ups: Regularly occurring power-ups boost gameplay dynamics.
What are the best online games?