Match Away 3D Cube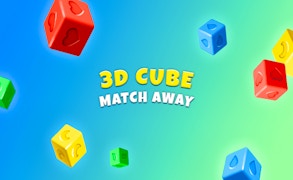 Match Away 3D Cube
Description
Step into the world of Match Away 3D Cube, a captivating 3D puzzle game packed with brain-teasing challenges. Your goal is simple: clear the screen by matching blocks. But the catch is, the blocks fly away in only one direction. With evolving block shapes and sizes, this game promises an array of increasingly complex puzzles that test your logic, precision, and critical thinking skills.
How To Play
To play Match Away 3D Cube, simply swipe across your screen to rotate the puzzle. Plan your moves carefully and match the blocks to clear them. Make sure to approach each level strategically as blocks only fly in one direction. As you progress, get ready to encounter larger shapes and diverse block forms adding more layers of complexity.
Tips and Tricks
Slow and steady wins the race in Match Away 3D Cube. Take your time to analyze the shape before making a move. Remember, rotations are key in this game so make sure to view all possible angles before matching blocks.
Features
Fully playable offline: Enjoy your favorite puzzle game anytime, anywhere unrestrained by internet connectivity.
User-friendly controls: Simply swipe to rotate the shape and make your next strategic move!
Vibrant skins and themes: Customize your gaming experience with a range of cool skins and themes.
Mind-stimulating gameplay: Offers an engaging way to practice critical thinking while having fun!
What are the best online games?
Tags