Mahjong Deluxe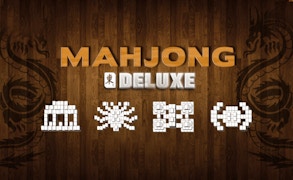 Mahjong Deluxe
Experience a modern take on the timeless classic with Mahjong Deluxe. This Chinese tile-matching game has been revamped to offer an immersive and captivating gaming experience. The intricate blend of dynamic boards and a spectrum of difficulty levels culminates in a rich, addictive puzzle game.
Unlimited Layout Possibilities
One of the game's standout features is its endless layout possibilities. Each time you play, you're met with a unique layout, ensuring you'll never encounter the same game twice. This continuous novelty keeps the game engaging, piquing curiosity, and challenging your tile-matching skills.
Varying Levels of Difficulty
Starting with simple games, Mahjong Deluxe invites players of all abilities to hone their skills. As you grow more confident, ramp up the difficulty and push your limits. Aiming to beat your personal best offers an exhilarating, individual challenge that remains true to the game's roots.
Fluid Gameplay
Seamless and fast transitions of matched tiles mark another highlight of Mahjong Deluxe. This fluidity enables players to constantly improve their times, adding a thrilling dimension to each game. The result? A captivating, fast-paced puzzle experience that keeps you coming back for more.
Embrace the modern adaptation of a classic game and test your tile-matching abilities with Mahjong Deluxe. With its dynamic gameplay and unending challenges, it's a game that keeps delivering satisfaction. Play Mahjong Deluxe now on GamePix and join the fun!
What are the best online games?
TAGS