Magic Match 3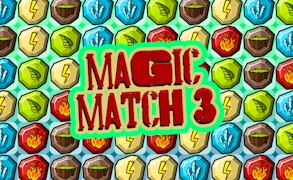 Magic Match 3
Description
In Magic Match 3, you'll find a world filled with stunningly vibrant elemental stones waiting to be aligned. Your mission is to manipulate and align these beautiful stones into combinations of three or more of a kind, horizontally or vertically. With five different types of breathtaking magic stones to juggle, the challenge intensifies as the clock ticks away.
How to Play
The game controls are straightforward— just click and drag the desired stone to the desired position on the board. To make a successful match, line up at least three similar stones horizontally or vertically. Remember, time is limited! Your progress is determined by your score, which increases each time you create successful matches.
Tips and Tricks
Focus on creating matches with more than three stones for extra points. Try to create chain reactions, where one match triggers others automatically. Keep an eye on the clock; don't let it rush you into making hasty decisions!
Features
High-quality graphics: Engaging visuals will keep players hooked.
Elemental magical stones: Five distinctive types of magical gems bring variety and challenge.
Time-restricted gameplay: Adds an extra level of excitement and intensity to every game session.
What are the best online games?
Tags