MAGA run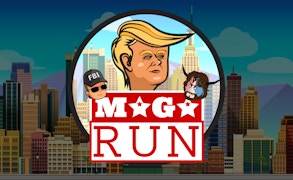 MAGA run
Description
In MAGA Run, you step into the shoes of an outgoing president on a thrilling escape. Hunt down lost ballots, amass fortune, utilize social media, and strive to reclaim your lost seat. Comical yet challenging, the game delivers a unique fusion of political satire and adventure-based gameplay. Featuring captivating visuals and exhilarating escape sequences, the game promises an action-packed gaming experience.
How to play
To navigate through the game, use your keyboard's arrow keys. Collect lost ballots and cash to increase your score, while avoiding being caught by the FBI. Use Twitter boosts for extra speed! Progress is maintained through your accumulated score and quest to regain presidency.
Tips and Tricks
Stay attentive to your surroundings; obstacles may appear at any time. Regularly use Twitter boosts for additional speed but use them wisely. Accumulate as many ballots and coins as you can for a higher score.
Features
Fusion of political satire with adventure-based gameplay
Captivating graphical representation
Action-packed escape sequences
Potent power-ups & upgrades via Twitter
Intricate levels filled with various collectibles including ballots and coins
What are the best online games?