Kick&Score Now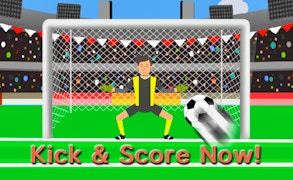 Kick&Score Now
Description
Experience the thrill of the field with Kick&Score Now, a hyper-casual, arcade-style soccer game. Immerse yourself in the heart-pounding action as you take control of every kick, aiming to score goal after goal. The game's mechanics are simple yet challenging, ensuring both newbies and seasoned gamers have a satisfying experience. The game's slick controls and dynamic gameplay ensure a football experience like no other.
How to Play
Playing Kick&Score Now is easy but mastering it takes skill. Use your mouse or touch screen to aim and shoot your shots at the goal. Your ultimate goal is to score as many goals as possible within the time limit. As you progress through the game, the challenges and obstacles get more difficult, testing your precision and reflexes.
Tips and Tricks
Practise makes perfect in Kick&Score Now. Take time to gauge your shot's direction and power before releasing it. Keep an eye on the timer and try to make every shot count. Also, watch out for moving obstacles – they're there to increase difficulty levels!
Features
Casual Gameplay: Easy-to-learn mechanics suitable for all ages.
Addictive: Score goals to earn points, building up an addictive desire for high scores.
Sleek Graphics: Modern graphics that deliver an immersive football experience.
Packed with Challenges: Increasingly difficult levels keep players engaged over time.
What are the best online games?