Jumping Squid Game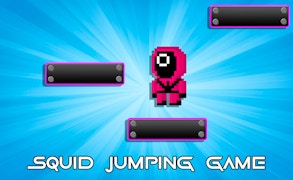 Jumping Squid Game
Description
In Jumping Squid Game, step into the world of an exciting and fast-paced platform jumping extravaganza, inspired by the popular Squid Game series. Your goal is to leap from one platform to another while clutching onto anything within reach to not fall. The game offers a highly addictive and endlessly re-playable experience that promises fun at every jump!
How to play
The game controls are incredibly simple yet challenging. Use your mouse pointer or your touch screen to guide the Squid in the right direction. Ensure that the Squid jumps from platform to platform and clings onto any object available for support. Remember, timing your jumps perfectly is absolutely essential to keep ascending!
Tips and Tricks
Don't rush! Patience can be your greatest ally in this game. Wait for the perfect opportunity to make each leap. Consider each potential grabbing point, as they can be potential saviors during difficult jumps. Always try for a high score, but remember that survival is key!
Features
Addictive Gameplay: With its fast-paced action and challenging dynamics, you are sure to get hooked!
Squid Game Style: Inspired by the popular TV series, giving it an intriguing theme.
Universal Compatibility: The game works seamlessly with almost any device offering an enjoyable gaming experience.
Skill Development: Perfect for honing your timing and precision skills.
What are the best online games?