Jewel Christmas Mania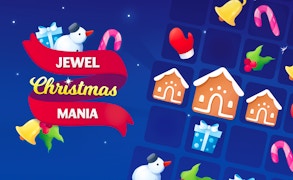 Jewel Christmas Mania
Description
Dive into the festive spirit with Jewel Christmas Mania. This captivating game blends traditional match-3 gameplay with a delightful Christmas theme. Revel in the wintery landscape filled with cheery snowmen, delicious gingerbread, and shiny Christmas balls. Strive for excellence by creating impressive combos and progress through various exciting levels.
How to Play
Playing Jewel Christmas Mania is straightforward yet exhilarating. Simply use your mouse to swap adjacent jewels and create a line of at least three matching items. The aim is to clear the game board, while earning points for creating large combos. Progressing through the levels requires strategic thinking and quick reflexes.
Tips and Tricks
A solid strategy goes a long way in Jewel Christmas Mania. Aim to match four or more jewels at a time to create special pieces with powerful effects. Keep an eye on the timer and try to rack up points as quickly as possible. Don't forget - larger combos mean higher scores!
Features
Bask in the unique features of Jewel Christmas Mania:
Vibrant graphics: Enchanting visual design that draws you into the holiday spirit.
Addictive Gameplay: Simple but engaging match-3 mechanics that keep you coming back for more.
Exciting Levels: Progress through different stages, each one more challenging than the last.
Holiday Theme: A joyful christmas setting elevates your gaming experience.
What are the best online games?