Jelly Quest Mania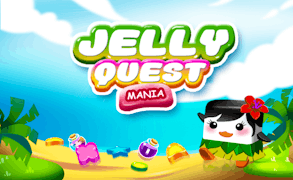 Jelly Quest Mania
Description
Jelly Quest Mania is a thrilling match-3 puzzle game where you collect vibrant jellies. The goal is to match at least three identical jellies, triggering a delightful explosion and racking up points. With stunning visuals and captivating gameplay, this game offers a fun-filled experience that's perfect for puzzle enthusiasts.
How to play
Playing Jelly Quest Mania is straightforward. Use your mouse or touchscreen to swap adjacent jellies, arranging at least three of the same kind in a row or column. This triggers a blast, removing those jellies from the board and earning you points. As you progress, the game intensifies, requiring wise decision-making and quick reflexes.
Tips and Tricks
To excel at Jelly Quest Mania, focus on creating bigger combinations. Matching more than three jellies creates power-ups, which can clear entire rows or columns. Also, keep an eye on the ticking clock! Completing levels quickly gives you bonus points and helps keep the excitement alive.
Features
Key aspects of Jelly Quest Mania include:
Vibrant and colorful graphics
Addictive match-3 gameplay
Intuitive controls that are easy to grasp but hard to master
An exciting time limit that adds an extra challenge to each level
A plethora of levels with increasing difficulty and complexity
What are the best online games?
Tags