Jeff The Killer vs Slendrina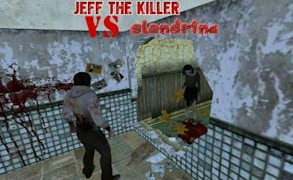 Jeff The Killer vs Slendrina
As a certified aficionado of gun games, survival games, horror games, and scary games, I was both thrilled and chilled exploring the terrifying world of 'Jeff The Killer vs Slendrina'. This - dare I say? - addictive entry in the pantheon of thrilling zombie games pits two legendary villains against one another in an epic duel.
The title's promise of an ultimate showdown between the eponymous characters isn't simply a sales gimmick. Each player has to embody either Jeff The Killer or Slendrina, navigating through intricately designed maps, scrounging for hidden objects while battling against your rival and the other spine-chilling monsters that lurk in the dark corners.
The bewitching beauty of this game lies in its fusion of several genres. It masterfully combines elements from conventional gun-based combat games with the heart-pounding, adrenaline-driving aspects of survival & horror genre. A heady mix that keeps you on your toes, constantly strategizing, aiming, shooting and trying to outlive another day on this cursed battlefield.
Who will emerge as the ultimate embodiment of evil? It depends purely on your skills with a controller and your ability to think quickly under intense pressure. Jeff The Killer vs Slendrina is not just another run-of-the-mill shooting spree; it's a test of strategy, courage, and ultimately survival.
Overall, this game guarantees a bone-chilling experience for all lovers of horror, gunplay, survival strategies and immersive gameplay that can take your breath away. So gear up gamers! Dive into the gruesome world of 'Jeff The Killer vs Slendrina' today and relish every spine-tingling moment it offers.
What are the best online games?