Impossible Tracks Stunt Car Racing Game 3D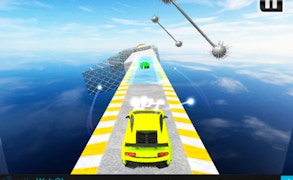 Impossible Tracks Stunt Car Racing Game 3D
Welcome to the fast-paced, adrenaline-pumping universe of Impossible Tracks Stunt Car Racing Game 3D. This heart-racing addition to the world of car games and driving games will take you on a thrilling odyssey into vertiginous heights, where gravity is a mere suggestion.
If you're a fan of realistic and challenging simulator games, prepare for an unparalleled immersion in this off-the-charts, sky-high car racing experience. The Impossible Tracks game offers an exhilarating blend of precision, speed, and gutsy manoeuvres. No place for the faint-hearted, it's a high-octane journey that will test your driving skills to their utmost limits.
Delve into the world of infinite skies and impossibly intricate tracks. In your quest for glory in these extraordinary offroad games, you'll find yourself suspended in mid-air, navigating the most convoluted courses imaginable. This game goes beyond the mundane reality; it's a dreamlike spectacle that fuses arcade fun with breathtakingly realistic simulation.
The only thing that might overshadow our stunning 3D graphics would be your own pulsating heartbeat as you dive headfirst into this immersive gameplay. You're not just playing a game; you're flirting with impossibility. It's an experience tailor-made for true gamers who thrive on high-speed races and daredevil stunts.
Skill Games enthusiasts will revel in this ultimate test of prowess - at the steering wheel, every twist and turn counts! Think fast, drive faster, and master those stunts because in Impossible Tracks Stunt Car Racing Game 3D – there are truly no limits.
What are the best online games?