I scream Ice Cream Match3 Fun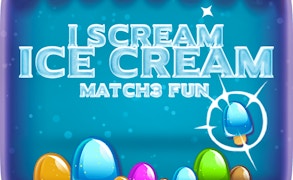 I scream Ice Cream Match3 Fun
Description
Indulge in the sweet world of I scream Ice Cream Match3 Fun! This captivating puzzle invites players to match delightful ice cream icons. With each successful match, you unlock powerful ups including the vibrant rainbow Popsicle. The game's excitement intensifies as you progress, each level posing a bigger challenge than the last!
How to play
Playing I scream Ice Cream Match3 Fun is intuitive. All you need to do is swipe to move adjacent ice cream icons and form a minimum of three identical ones in a row or column. Once done, they disappear, yielding room for more matches and potentially triggering combo power-ups. As your journey unfolds, remember to accomplish all the goals set for each level!
Tips and Tricks
To score higher in I scream Ice Cream Match3 Fun, target creating longer chains of matches. The longer the chain, the bigger the explosion and higher your score! Also, focus on achieving level objectives early to earn bonus points and make full use of power-ups when they appear.
Features
Vividly designed ice cream icons that appeal to all puzzle lovers.
Powerful power-ups including a rainbow Popsicle that supercharges your game.
Intricately designed levels with unique goals challenging enough for seasoned players.
A rewarding gameplay system that rewards larger matches with more points.
What are the best online games?
Tags