Garage Car Parking Simulator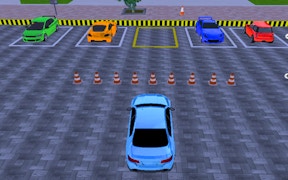 Garage Car Parking Simulator
Welcome to a riveting world of precision, skill, and adrenaline. Garage Car Parking Simulator is a sensational new addition to the realm of car games, that pushes the boundaries of driving games well beyond their traditional limits.
This game is much more than just another racing experience. It's a finely calibrated simulator game, where your driving and parking skills are tested in a labyrinth of intricate parking lots and treacherous garages. Every lapse in judgment, an invitation to disaster; every successful maneuver, a triumph against chaos.
You find yourself behind the wheel, faced with all the trials and tribulations familiar to everyone who's ever grappled with the quintessential urban challenge - parking. The attention to detail in Garage Car Parking Simulator is impeccable, and there is no room for error. Precision isn't just recommended; it's mandatory.
This standout among parking games, offers prospective players an opportunity to learn the ins and outs of navigating tight spaces with ease, thanks to its realistic car handling. Mastering this game means mastering real-life parking skills. You won't just be the king of virtual parking lots; you'll become the veritable king of real-world parking too!
Fans of skill games will not be disappointed with Garage Car Parking Simulator's challenging difficulty curve that consistently keeps you on your toes. And yet, this game offers something even beyond adrenaline-fueled gameplay - it's fun learning how to actually park your car while enjoying everything it has to offer.
To sum it up, Garage Car Parking Simulator isn't just about racing against time or opponents but racing against yourself. Are you ready for this thrilling journey? Embrace the challenge and turn yourself into a true king of parking.
What are the best online games?