FruitySwipes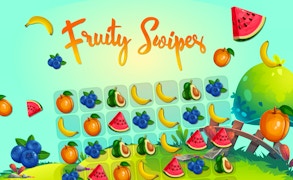 FruitySwipes
Description
Experience the exhilaration of FruitySwipes, a vibrant puzzle game that takes you on an exciting journey through an array of colorful fruits. This game involves finding chains of identical fruits on a board and swiping them away. The game features a number of bonuses and power-ups that are awarded for longer chains. The challenge increases as the game progresses and the energy bar depletes, making you strategize wisely.
How to play
The gameplay of FruitySwipes is both intuitive and engaging. Simply tap on one fruit icon, drag your finger across the screen to create a chain of identical fruits, then release to swipe them off the board. Aim for longer chains to earn bonuses and power-ups. Keep an eye on your energy level at the top of the screen, replenish it using power-ups before it completely depletes.
Tips and Tricks
To increase your score, focus on creating lengthy chains. This not only gives you more points but also generates powerful bonuses. Additionally, keep track of your energy level, strategically utilize power-ups to maintain it as long as possible.
Features
Vibrant graphics: Enjoy the bright and colorful interface which is pleasing to the eyes.
Addictive gameplay: Forming matching fruit chains offers an engaging experience.
Bonuses: Long chains yield power-ups that can extend your playtime or boost your score.
Energetic Environment: The decreasing energy bar adds a thrilling element to the game.
What are the best online games?
Tags