Fruit Merge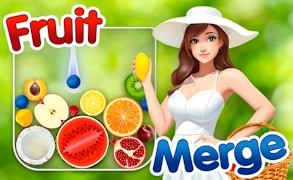 Fruit Merge
Welcome to my insightful review of Fruit Merge, an intriguing brain-teasing journey firmly ensconced amongst the top contenders in the realm of brain games and match-3 games. Thrilling, captivating, and filled with a plethora of gorgeous visuals, this game guarantees to keep you glued to your screen.
Dive into a captivating world where identical fruits merge into a new, even more valuable one. Each combination you produce notches up your points, while landing several combinations in a row triggers a combo multiplier. This brilliant mechanic adds a delicious layer of depth to Fruit Merge's gameplay - imagine chess but with fruit.
The ultimate objective? Fill the bar at the top of the screen with as many points as you can. This, in turn, helps you level up and unlock exciting boosters and features. The game's challenge lies in ensuring that your playing field doesn't fill to the top. If it does...match over! There's no time limit here folks, it's all about maximizing your points score.
Strategy and planning are vital to understanding Fruit Merge. The best part? Every move you make contributes to creating an intricate puzzle that only you can solve. Faced with a board full of potential fruit merges, you may find yourself laying out complex strategies on how to score higher or prolong your game.
In essence, Fruit Merge is an ingenious blend of strategy and casual gaming. Its perfect balance between difficulty and fun makes it stand out from other match-3 games. Whether you are looking for a way to pass the time or keep your mind sharp – this is the game for you!
What are the best online games?
Tags