Football Color Matcher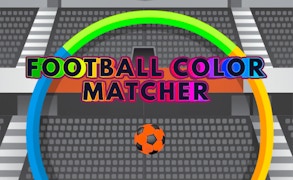 Football Color Matcher
Description
Experience an exhilarating blend of football and color matching in Football Color Matcher. This captivating arcade game challenges you to align footballs of matching colors, thereby accumulating points. Much like a real football match, you'll need agility and quick decision-making skills to maximize your score. A simple yet deceivingly tricky game, it is the perfect choice for those seeking a fun-filled challenge.
How to play
Playing Football Color Matcher is straightforward. Use your mouse or touch controls to position the footballs so that they match in color. The more matches you make, the higher your score grows. The game gets faster as you progress, requiring swift reflexes and strategic thinking. Don't let non-matching colors connect, or it's game-over!
Tips and Tricks
Success in Football Color Matcher depends on prompt decision-making. Always be on the lookout for potential color matches and plan your moves wisely. Try to create chains of matches for bonus points. Be prepared for increased game speed over time and always stay vigilant!
Features
Familiar but unique gameplay: Combines elements of traditional color matching games with a football theme.
Skill development: Enhances quick thinking and strategic decision-making skills.
Addictive: Increasing difficulty levels maintain consistent challenge and enjoyment.
Broad appeal: Perfect for both football enthusiasts and fans of arcade games.
What are the best online games?
Tags