Flow Laser Quest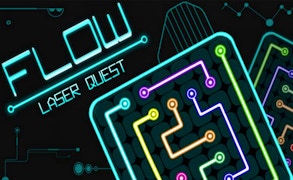 Flow Laser Quest
Immerse yourself in the electric, neon-infused world that Flow Laser Quest brilliantly brings to your device. This ingenious puzzle game, designed to test your mettle and spark your creativity, takes you on a journey through an endless matrix of brain-busting challenges.
Flow Laser Quest is the ultimate nexus of brain games and fun games. It's a universe where strategy and wit are your weapons, where every decision you make is a step towards victory or defeat. The objective? Link points of the same color through a labyrinth of levels. Simple in its concept, complex in its execution.
The game oozes Tron-inspired vibes with its digital landscapes and pulsating soundtrack, crafting an atmosphere that is as enthralling as the game play itself. The design is sleek, the controls are intuitive, making Flow Laser Quest not just another puzzle game but an addictive venture into uncharted gaming territory.
This leviathan of brain-teasers offers a hundred levels of escalating difficulty. Each level presents a new challenge, each solution feels like an accomplishment. The further you progress, the more insurmountable the challenge seems to be — but that's where the real fun begins.
Overall, Flow Laser Quest does more than just tickle your grey matter. It's a fantastic fusion of art and science, strategy and excitement – all rolled into one action-packed experience. Whether you're embarking on this quest for fun or with serious intent for mental dominance, Flow Laser Quest fits perfectly into both categories.
In conclusion, if you're keen on puzzle games, relish in mental gymnastics or simply looking for a new favorite amongst those one-more-level types of games - Flow Laser Quest just might be your next digital obsession.
What are the best online games?
TAGS