Flipper Four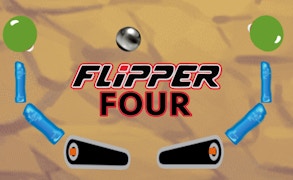 Flipper Four
Description
Welcome to the innovative world of Flipper Four, where classic pinball gets an exciting twist. This engaging arcade-style game challenges you to manipulate a red ball within a set timeframe. The crux? Monstrous bombs that emerge abruptly, adding an element of unpredictability and suspense. You're not just playing to win – you're playing to survive.
How to play
In Flipper Four, your task is to hit the red ball as often as possible within the given timeframe. Use your mouse or touchpad to control the flipper. However, be wary of sudden bomb appearances! If you hit a bomb with the ball, your score will decrease. Time is crucial - once it runs out, the game ends.
Tips and Tricks
To maximize your score in Flipper Four, focus on hitting the red ball consistently while avoiding the bombs. Swift reflexes and a strategic mind will give you an edge in this fast-paced game. Consistent play can also help develop better timing and control.
Features
Classic pinball with an exciting twist
Diverse gameplay elements such as bombs for added challenge
Time-bound matches increase excitement and pressure
Retro styled graphics for a nostalgic gaming experience.
What are the best online games?