Fairy Match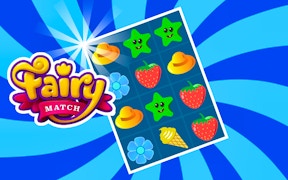 Fairy Match
Welcome to the enchanting universe of Fairy Match, a delightful addition to the realm of match-3-games. Take an exhilarating journey with the commonplace yet utterly lovable snail, Ulyasha, as she stumbles upon a mystical portal leading her to the vibrant world of match three.
This game seamlessly intertwines classic puzzle elements with an enchanting storyline, thereby taking match-3-games to a whole new level. As you dive into this magical forest, you'll find yourself engrossed in its creative challenges and exciting tasks at every turn.
Each level brims with captivating puzzles that are both mind-boggling and fun, effectively pushing your strategic thinking abilities to its limits. From simple patterns to complex combinations, Fairy Match is a game that will keep you on your toes. Its vivid graphics and immersive sound design further enhance the gaming experience, magically teleporting you to Ulyasha's realm.
The game's progression system is also praise-worthy. With each conquered puzzle, Ulyasha's journey becomes increasingly intriguing - this dynamic nature ensures that no two levels feel alike!
The charm of Fairy Match lies in its ability to offer both a comforting sense of nostalgia for traditional match-3-games lovers and a fresh wave of innovation for adventure seekers. It's not just a game - it is a unique blend of adventure and strategy packed into a beautifully crafted magical world.
If you are seeking an immersive game with heaps of mysteries hidden within numerous levels - all wrapped up with beautiful visuals and sound effects - look no further than Fairy Match!
So step through the portal alongside Ulyasha and experience the magic yourself! See you in the game!
What are the best online games?
Tags