Extra Hot Chili 3D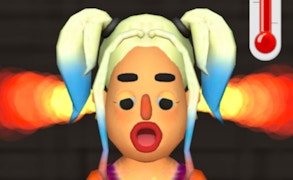 Extra Hot Chili 3D
Welcome to the sizzling and exhilarating world of Extra Hot Chili 3D, a game that sets your taste buds on a wild adventure. This isn't just your average cooking game; it's a ride through the Scoville scale at breakneck speed. There's no denying - If you're seeking fun games in the realm of Hyper Casual Games, look no further!
Extra Hot Chili 3D combines the charm of arcade gaming with the guilty pleasure of mouth-burning spicy delicacies, resulting in one of the most unique and engaging cooking games you'll ever play. It's an immersive, hyper-casual gaming experience that doesn't shy away from breaking conventional norms, adding a twist of heat with every level.
The game play is scorchingly simple - choose your chili pepper varying from mild spicy to abnormally extra hot, throw it in the pot, and let it simmer till you reach your desired pungency. Each level ups its heat ante, giving players an escalating thrill that goes beyond the ordinary.
Performing well under pressure is key - frantic tapping may be required as this game has the tendency to spike in difficulty much like how a chili pepper spikes in heat. It plays upon our memories of consuming very spicy food where we've felt our blood literally burn. Don't underestimate this game; it might seem like all fun and games at first but it quickly becomes a fiery challenge.
An exemplary addition to fun games, Extra Hot Chili 3D is certainly not for the faint-hearted. This game will keep you on your toes (and maybe even sweating!) with its continuous intensity and unique concept. If you're into cooking games with a heated twist or just looking for an easy-to-play yet hard-to-master thrill among Hyper Casual Games, Extra Hot Chili 3D is certainly worth checking out.
What are the best online games?