Double Pinball Machine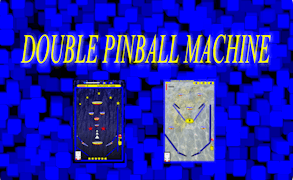 Double Pinball Machine
Description
Dive into the vibrant world of the Double Pinball Machine! This exciting arcade game features two distinct pinball machines, the Blue and Fluido. Each offers its unique play style, visuals, and challenges. Engage in a quick round on the Blue table before transitioning over to the dynamic Fluido machine. Experience the pure thrill of playing pinball on this digital platform.
How to play
The controls of Double Pinball Machine are easy to grasp. Use your keyboard's arrow keys or mouse to control each machine's flippers and shoot balls on the playfield. Aim for high scores as you whack balls towards various targets, ramps, and other interactive elements. Progression involves scoring higher points and mastering both machines.
Tips and Tricks
Aim your shots carefully to hit high-scoring targets. Keep an eye out for special triggers and combos. It is always better not to rush shots but wait for the right moment to strike for maximum points. Also, try to keep multiple balls in play simultaneously to multiply your scoring potential.
Features
Dual Pinball Machines: Offers two distinct gameplay experiences.
Cool Visuals: Each machine has unique graphics and animations.
Skill-based Play: Your precision, timing, and strategy determine your score.
Versatile Controls: Play with either a mouse or keyboard controls.
What are the best online games?