Domino Block Multiplayer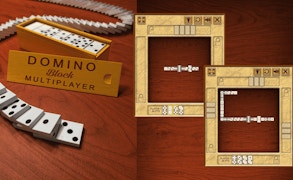 Domino Block Multiplayer
Description
In Domino Block Multiplayer, you get to test your strategic skills and intellect against other players in real-time. This game takes the classic dominoes experience online, involving cerebral challenges and a good grasp of numbers. It's an engaging competitive platform where your objective is to drain your hand before your opponents do and score as many points as possible.
How to Play
To play, just click on a domino from your deck that shares the same number of dots with one end of the domino on the game board. The dominoes must be placed end to end. If you can't make a move, click on the "Pass" button. The player with the least number of dominos or points at the end is declared winner.
Tips and Tricks
Remember that good strategy often involves blocking your opponents' moves or forcing them to pick up more dominoes. Try to keep a variety of numbers in your stack for more flexibility and don't forget to think ahead before making a move!
Features
Interactive Multiplayer: Play against friends or random players around the world in real-time.
Fluid Controls: Easy click-and-drag mechanism for placing dominos.
Cognitive Development: Enhances strategic thinking and numerical skills.
Vibrant Graphics: Enjoyable virtual environment with colorful dominoes and intuitive gameplay interface.
What are the best online games?