Doctor Bubble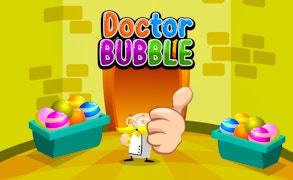 Doctor Bubble
Description
Welcome to Doctor Bubble, an HTML5 arcade game where colors and precision are paramount. This fun bubble shooter requires you to match similar colored bubbles together to earn points. The faster you can distinguish and hit the correct colored bubbles, the higher your score-so be ready for a vibrant challenge!
How to play
You simply need to aim your bubble shooter at a cluster of matching colors and launch your shot. Pay close attention to the color of bubble in your shooter, as it changes after each shot. Each successful match-3 or more will net you points and clear some space on your board. Missing a shot will add more bubbles into the mix, so aim carefully!
Tips and Tricks
Always focus on creating chains of similar-colored bubbles, as this will grant you extra points. Try to get rid of clusters hanging from the top first, as eliminating them will cause those below to drop instantly. Also, try bouncing shots off the walls for tricky angles and hard-to-reach spots.
Features
An energetic mix of colors in every round makes each game uniquely challenging.
User-friendly controls suitable for gamers of all ages.
The game gets more difficult as you progress, adding extra layers of strategy.
Aim assistance line included for precision shooting.
Catchy background music enhances the gaming experience.
What are the best online games?