Cut Grass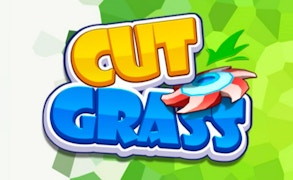 Cut Grass
Get ready to sharpen your blades for Cut Grass, a riveting lawn mower simulation game that mows down the competition and stands tall as an Eden for puzzle lovers and fans of brain games.
Cut Grass transports you to a world where the grass is always greener. A veritable buffet of horticultural possibilities, this game truly puts the 'fun' in fun games. As a digital gardener, you commandeer a mechanized scythe, trimming away at the verdant fields, weaving through flora with precision and patience. This is not your average landscaping square dance, but a test of wits and reflexes wrapped in an aesthetically pleasing package.
Your task? To cultivate order from chaos. To cut the lawn for hours on end, allowing beautiful blossoms to spring forth from the neatly manicured soil. But beware! The challenge ramps up as you progress through a labyrinthine collection of levels, each more puzzling than the last.
In Cut Grass, strategy and timing is everything. The game's mechanics morph this simple act of tidying into a thrilling escapade akin to solving Rubik's cube with blades. Surefire proof that Cut Grass belongs in any discussion about addictive games.
The synergy between its mesmerizing visuals and hypnotic soundtrack lulls you into a rhythmic cadence with every swish of grass under your tool. Yet even in its tranquillity, it maintains an air of suspense - the hallmark of all great puzzle games.
To put it simply, Cut Grass offers much more than meets the eye. It's not just a game – it's an immersive experience that challenges your mind while soothing your senses; it's an oasis in which brain games meet relaxation; it's the most fun you'll ever have performing yard work.
What are the best online games?