Coin & Dash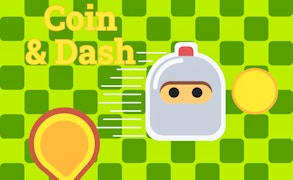 Coin & Dash
Description
In Coin & Dash, you embark on a thrilling, coin-collecting adventure where quick reaction times and sharp mental acuity are a must. Your mission is to navigate through challenging levels, gathering as many coins as possible, while avoiding obstacles and pitfalls. The landscape is constantly changing and keeps you on your toes.
How to play
The controls of Coin & Dash are simple but the path is treacherous. Use your mouse or touchscreen to guide the character through each level. Collect coins to earn points while dodging obstacles that appear in your path. Each successfully completed level increases in complexity and speed, making your journey more exciting.
Tips and Tricks
Keeping an eye on what's ahead is crucial in Coin & Dash. Time your moves precisely to capture more coins and avoid obstacles. Using power-ups wisely can also help boost your score and navigate trickier levels. Keep practicing; speed and reflexes improve over time!
Features
Addictively simple gameplay with an increasing degree of challenge
Fast-paced action that tests your reflexes and precision
Lovely graphics with immersive sound effects
An endless array of levels for continuous play
Power-ups to aid in collecting coins and traversing through obstacles
What are the best online games?
Tags