Cellular War - Online Multiplayer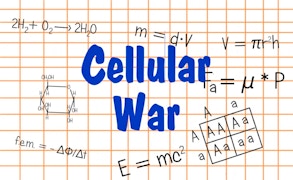 Cellular War - Online Multiplayer
Cellular War - Online Multiplayer
Description
Welcome to Cellular War - Online Multiplayer, an addictive multiplayer game where players become cellular bodies fighting for survival in a challenging microscopic arena. Battle it out in real time, consume organisms, grow your cell and evolve to dominate the battlefield. But beware! You're not the only predator out there. Other players are looking to consume and dominate you too.
How to play
Control your tiny cell using your mouse or touchpad. Move around the arena gobbling up smaller cells while avoiding larger ones. The quick and brave survive in this game of survival. Collect power-ups, increase in size, and gradually develop your cell into a dominant player on the field while avoiding being consumed by larger cells.
Tips and Tricks
In this game, size isn't everything. Speed can be a lifesaver; smaller cells move faster than larger ones. Use that to your advantage by dodging bigger opponents until you're big enough to fight back. Don't forget to leverage power-ups tactically and always be on alert!
Features
Real-time multiplayer action with players around the world
Challenging gameplay with a simple control scheme
Strategy based 'eat or be eaten' mechanics
Tons of power-ups granting special abilities and bonuses
Visual evolution of your cell as you grow bigger and stronger
What are the best online games?