Cat Strapped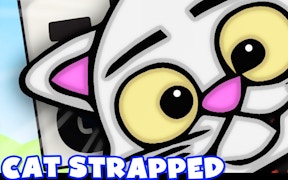 Cat Strapped
Description
If you love word games and cats, Cat Strapped is just the game for you. This quirky puzzler features 8 adorable cats strapped with explosives. Your task is to guess letters and solve the puzzle. However, beware! Any wrong guess will result in a cat explosion. But don't worry - with every puzzle solved, you get 2 cats back. The game continues until you run out of cats.
How to play
The game involves guessing letters to solve word puzzles. For each wrong guess, a cat will explode. To prevent that from happening, brainstorm and make as many right guesses as possible. A correct puzzle solution gives you back 2 of your feline friends. The objective is to keep the game going by avoiding wrong guesses and thus, preventing the loss of your kitties.
Tips and Tricks
To stay in the game longer, make sure to think carefully before guessing a letter. Remember that commonly used letters are more likely to appear in puzzles. Also, try guessing vowels first as they frequently appear in words!
Features
Puzzle-solving gameplay: Challenge yourself with fun and engaging word puzzles.
Cute cat characters: Enjoy the company of lovable kitties that add a unique twist to the gameplay.
Strategy-based: Make careful strategic decisions to keep all your cats safe.
What are the best online games?