Captain Pirate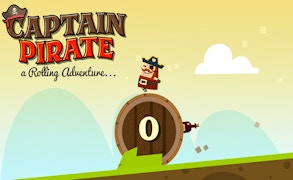 Captain Pirate
Description
In Captain Pirate, you step into the shoes of a swashbuckling sea captain who finds himself rolling down a mountain in a barrel! This game combines quick reflexes and strategic thinking as you avoid a collection of obstacles in your path. One wrong move and our drunken pirate is toast. With its addictive one-touch gameplay and illustrative graphics, Captain Pirate offers an exciting blend of action and fun!
How to play
The game has a straightforward one-touch control system. Tap the screen to change the direction of the barrel's roll, guiding the pirate safely down the mountain. Stay alert for boulders, trees, and wildlife that block your path. The key to progress in this game is persistence. Keep trying, learn from previous runs, and master those quick reflexes.
Tips and Tricks
Don't be too hasty with your taps - timing is crucial! Be patient but be ready to act swiftly when danger shows up. Keep an eagle eye out for pockets of clear path between obstalces - these are your safe spots. Consider bolder moves as you get more comfortable with the controls.
Features
Addictive one-touch gameplay: Easy to learn but challenging to master.

Pirate-themed fun: Who doesn't love a good pirate adventure?

Diverse obstacles: Each run presents new challenges!

Evolving difficulty: The further you progress, the harder it gets.

What are the best online games?