Candy Pong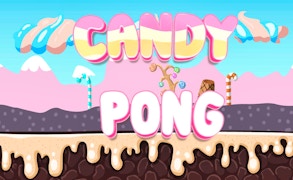 Candy Pong
Description
Arcade gaming gets a sugar rush with Candy Pong, a delightful online game where you can bring your pong skills to a whole new sweet level! With vibrant, colorful visuals and simple yet exciting gameplay, this is the perfect game for those who crave quick and easy arcade action. Your job is to bounce the ball across the board, collecting as many candies as possible, and then drop them into the designated hole.
How to play
All you need is your trusty mouse to control the ball. Move it around to collect candies scattered across the board. Once collected, click on these delicious treats to drop them into the hole located on the opposite side of your screen. Whether it's a leisurely solo game or an intense match against friends or AI, mastering Candy Pong involves focus, agility, and timing.
Tips and Tricks
Want to maximize your Candy Pong prowess? Focus on accumulating lots of candies before making a beeline for the hole. Time your candy drops accurately so they don't miss their target. And remember - practice makes perfect. The more you play, the better you'll get!
Features
The exciting aspects of Candy Pong include:
A vibrant, candy-themed visual design that enhances gameplay experience.
Solo mode for casual fun or multiplayer mode for competitive thrills.
A dynamic gameplay that tests accuracy and reflexes.
A simple interface that's easy even for beginners to pick up.
The power to play anytime and anywhere on mobile or tablet.
What are the best online games?