Candy Match Blitz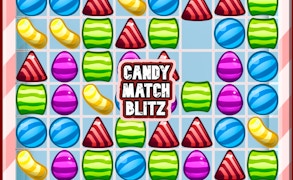 Candy Match Blitz
Description
In Candy Match Blitz, your puzzle-solving skills are put to the test! This vibrant and exciting game requires you to strategically align three or more identical candies to eliminate them from the board. The catch? You're racing against the clock! Each level presents a unique challenge, tasking you with accomplishing specific objectives within a given timeframe.
How to play
The controls are simple—just click and drag to switch adjacent candies and make matches. Always keep an eye on the timer, as each level is time-limited. To progress in the game, pay attention to the level's particular objective—it may involve collecting a certain type of candy or reaching a specific score.
Tips and Tricks
Plan your moves wisely for combos, which can result in chain reactions and higher scores. Keep an eye out for opportunities to create special candies—they can remove entire rows, columns, or areas. Also, prioritize completing level objectives over merely popping candies.
Features
Limited time levels: Each level tests both your speed and strategizing skills.
Diverse objectives: Each stage presents unique challenges for varied gameplay.
Vibrant graphics: A colorful candy-themed design that's visually appealing.
Casual gameplay: Easy-to-learn controls make it accessible for players of all ages.
What are the best online games?
Tags