Buongonoid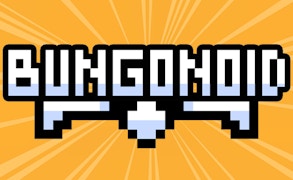 Buongonoid
Description
Bungonoid is a captivating one-touch arcade game that effortlessly blends the charm of classic games like breakout and pinball into one action-packed experience. In Bungonoid, players strive to rack up high scores while bouncing a ball on a paddle. With every play comes a novel visual treat, thanks to seven randomly-selected backgrounds. Sporting three unique, unlockable paddles and three elusive medals to earn based on score, Bungonoid promises an exciting playthrough every time.
How to play
To play Bungonoid, players simply need to tap their screens. This one-touch control system manipulates the paddle at the bottom of the screen to bounce the ball and destroy blocks. Points are accrued by breaking blocks and scoring combos. The goal is not only to keep the ball in play but also to achieve a high score in order to unlock rare paddles and grab coveted medals.
Tips and Tricks
Mastery of Bungonoid lies in anticipating the ball's trajectory. Keep an eye on where the ball will land next and move your paddle there swiftly. Watch out for bonus points hidden among regular blocks. Focus on achieving combo hits as they significantly boost your score, paving your way towards nabbing those elusive medals.
Features
Simple one-touch controls: Easy-to-learn controls make this game accessible for everyone.
Retro aesthetic: The game's design pays homage to classic arcade games.
Diverse backgrounds: Seven randomly-selected backgrounds ensure fresh visuals every time you play.
Unlockable content: Three unique paddles and three medals based on scores provide compelling goals.
What are the best online games?