Bungonoid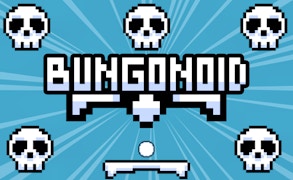 Bungonoid
Description
In Bungonoid, players encounter a delightful blend of break out and pinball elements fashioned in an appealing pixel art style. The simple yet engaging game design involves adventure in various backgrounds and tackling challenges with different paddles, which can be unlocked based on performance. The game journey is further enhanced by the three medals that serve as milestones of achievement. Every playthrough offers new surprises with different backgrounds selected randomly each time.
How to play
Playing Bungonoid is as simple as a single tap. Your aim is to keep the ball in play for as long as possible while breaking through various obstacles. The more obstacles you break through, the higher your score becomes. To guide the ball, just tap the screen which controls your paddle's movement. Target high scores to unlock new paddles and earn prestigious medals.
Tips and Tricks
Mastering timing and precision is key in Bungonoid. You need to anticipate the ball's trajectory and align your paddle accordingly. Avoid missing the ball at all costs as this could end your game prematurely. Also, aim for higher scores not just for glory but to unlock extra paddles which might offer an edge in subsequent games.
Features
Simplistic one-tap control mechanics perfect for quick gaming sessions.
Seven unique backgrounds that shuffle randomly every playthrough.
Medal-based scoring system that adds a competitive edge to gameplay.
Unlockable paddles offer variation and fresh strategies.
Retro pixel-art style graphics that offer a visually pleasing experience.
What are the best online games?