Bubble Shooter POP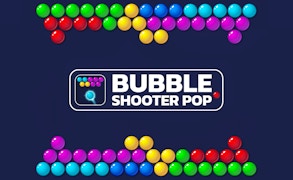 Bubble Shooter POP
Description
Immerse yourself in a vivid, colorful world of Bubble Shooter POP, a fun-filled arcade-style game. Your mission is to eliminate all bubbles from the screen by connecting three or more bubbles of the same color. In addition, unique boosters raise the bar of excitement, turning the tide of the game when used correctly.
How to Play
To play Bubble Shooter POP, use your mouse or touch screen to aim and shoot bubbles at matching ones on the board. Accumulate ten consecutive hits to earn a booster that colors bubbles at its point of impact, giving you a strategic edge. Be mindful of your bubble height, as getting too close to ground can end your adventure early.
Tips and Tricks
The Bomb Booster is a powerful tool that can efficiently remove large groups of bubbles when you're close to ground level. It's best to save this booster for such critical scenarios to maximize your score. Always aim for chain reactions for scoring higher points.
Features
Energetic and vibrant graphics that keep you engaged and entertained.
Intricate gameplay mechanics with an intuitive control system.
Mesmerizing sound effects enhancing the gaming atmosphere.
Variety of exciting boosters to help you out in tough situations.
A scoring system that encourages strategic thinking and accuracy.
What are the best online games?