Bubble Shooter Blast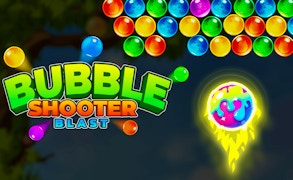 Bubble Shooter Blast
Embark on an exhilarating journey into the exciting universe of Bubble Shooter Blast, a captivating game where you can evolve into a seasoned bubble blaster. This engaging arcade game is intricately designed to offer an exhilarating experience for those fascinated by ball games and bubble shooter games.
The premise is incredibly simple - handpick a ball of your choice and accurately aim at the right spot to shatter the bubbles. Ignite your gaming spirit as you navigate through more than 200 challenging levels of this pulsating game. The enticing process of collecting and shooting 3 or more bubbles in quick succession guarantees sweet triumph!
This game isn't just about shooting bubbles – it's about strategic thinking, quick decision-making, and precision. As you ascend, each level presents escalating challenges, pushing your skills to the brink.
Bubble Shooter Blast offers dynamic gameplay that revolves around lining up 3 or more bubbles in the correct sequence to burst them. Every shot matters – aim with precision, tap at the right moment, and watch as combinations of bubbles explode with spectacular effects! The fun doesn't stop there – score high with numerous bubbles and clinch 3-star victories!
When the going gets tough, boosters and power-ups will be your best allies. They help shatter even more bubbles, paving your way to victory. So gear up! Every bubble-bursting battle requires a sharp mind and swift tactics.
Are you ready to pop every balloon in sight? If yes, then Bubble Shooter Blast is the perfect arcade escapade for you!
What are the best online games?