BounceBall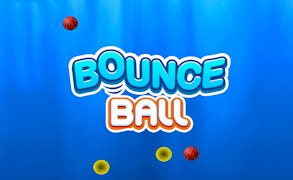 BounceBall
Description
In BounceBall, you'll find yourself immersed in a simple yet challenging arcade game. Your task is to control a dynamic bubble which constantly shrinks but can increase in size by collecting green marbles. The bigger the bubble, the higher your score! But beware, the gaming sphere is filled with obstacles that will make your task harder.
How to play
To play BounceBall, use your mouse or finger to navigate your bubble through the field, avoiding obstacles and collecting green marbles. The game is reliant on timing and precision, as direct contact with any obstacle will cause you to lose. Keep an eye on the size of your bubble because if it shrinks too much without collecting marbles, it's game over!
Tips and Tricks
To excel at BounceBall, maintain constant movement while making sure you're on a clear path towards green marbles. Avoid obstacles cleverly and don't let your bubble shrink too much. Remember that with each marble you collect, not only does your score increase but also the size of your bubble!
Features
Straightforward gameplay: Easy to pick up but hard to master.
Hyper Casual: Can be played during short breaks.
Physics-based mechanics: Adds authenticity to your gaming experience.
Addictive concept: You will always want another go to beat your high score!
What are the best online games?