Balloon Match Color Match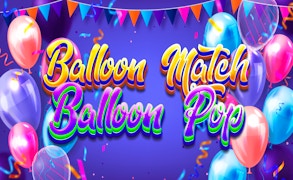 Balloon Match Color Match
Description
Balloon Match Color Match is a captivating arcade game that immerses players in a colorful balloon paradise. The aim is to guide the balloons to their matching color directions using a cannon. As you achieve high scores, the challenges incrementally increase, making each level more exciting and engaging than the previous one.
How to play
To play Balloon Match Color Match, tap to release balloons from the continuously shooting cannon and turn the arrow to guide each balloon to its matching color direction. It requires quick thinking as you have only 100 lives, and each mistake costs you 5 lives. Successful navigation increases your score and advances you to subsequent challenging levels.
Tips and Tricks
Improve your eye-hand coordination for better positioning of the arrow. It's essential to avoid mistakes while promptly moving the arrow as multiple balloons may need guidance simultaneously. As the angle changes unpredictably, mastering quick adjustments is crucial to progress in this game.
Features
One Tap Gameplay: Enjoy an uncomplicated one-touch control system.
Suitable for All Ages: A fun-filled game designed for both kids and adults.
Challenging: The game offers increasing challenges with each level progression.
Vibrant Interface: Experience a visually pleasing design filled with beautiful colors.
Numerous Levels: With a total of 252 levels, there's unlimited hours of fun-filled gameplay.
Free & Offline Game: Play anytime without internet connectivity at no cost.
What are the best online games?