BallDestroy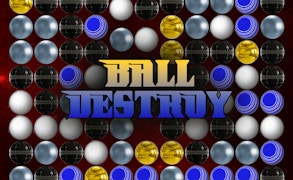 BallDestroy
Description
Get ready to immerse yourself into the captivating world of BallDestroy. In this game, your main task is to shatter as many balls as you possibly can. The balls will appear on your screen in a random pattern and you have to match at least three of the same color to destroy them. Enjoy the visually pleasing ball-shattering effects and unleash the thrill of strategic planning.
How to play
To navigate through BallDestroy, simply tap on or click a group of at least three balls of the same color and they will disappear from the screen, earning you points in return. As you progress through levels, more ball colors are added, making matches more challenging. A progress bar will show you how close you are to completing each level.
Tips and Tricks
Plan your moves carefully! Aim for larger groups of same-colored balls to score higher points. Take advantage of power-ups that appear randomly throughout gameplay, they can save the day when you're stuck. Stay patient and keep practicing to become a master at BallDestroy.
Features
Simplistic yet challenging gameplay: Easy for beginners but difficult to master.
Pleasing animations: The visuals are sure to keep your eyes glued to the screen.
Addictive gaming: With every increasing level, the desire for high score grows.
Promotes strategic thinking:The game encourages players to think ahead and plan their moves accordingly.
What are the best online games?
Tags