Ball Crush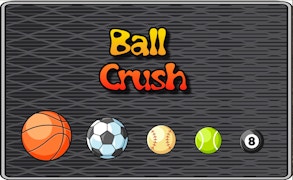 Ball Crush
Description
In the heart-racing puzzle game Ball Crush, you're tasked with matching identical balls to quickly clear your screen. With each round only lasting a mere 60 seconds, you must act fast to achieve the highest score possible. But be warned; this game isn't as easy as it seems. Prepare for a whirlwind of fun and challenging twists!
How to play
To play Ball Crush, simply click or tap on clusters of identical balls to remove them from your space. The game progresses by increasing the speed at which new balls appear, necessitating quick thinking and faster actions. Points are accumulated based on the number of balls you successfully eliminate within the 60-second timeframe.
Tips and Tricks
Focus on eliminating large groups of identical balls to earn more points and create more space on your screen. Keep an eye on the clock, as timely decisions can make or break your high score. Don't forget to use power-ups when they become available for additional help!
Features
Rapid 60-second rounds for quick yet engaging gameplay.
An increasing difficulty level that challenges your speed and strategic abilities.
A scoring system that rewards fast thinking and effective strategy.
The use of power-ups to enhance your gameplay and boost your score.
What are the best online games?
Tags