Aquapark Surfer Race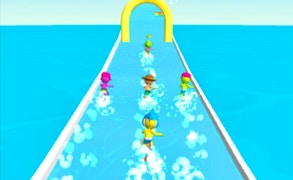 Aquapark Surfer Race
Craving a splash of adrenaline? Yearning for unadulterated fun with a dash of competition? Then buckle up and dive into Aquapark Surfer Race, one of the most engaging skateboard games on the gaming market. This isn't just another title in the sea of similar games – it's a high-octane wave ride that will keep you hooked for hours on end.
The game masterfully translates the thrill and joy of surfing into an exciting, digital experience. It engages players in riveting races against multiple opponents, all battling to become the champion surfer. The exhilaration doesn't stop there; the game also incorporates skillful gameplay synonymous with top-notch Skill Games.
Aquapark Surfer Race boasts enthralling sea slides – tactically maneuvering your board becomes paramount to avoid obstacles like the sneaky swimming rings. The feel of your board gliding over the digital water is almost uncanny! And here's a pro tip: keep an eye out for the acceleration zones. These are your ticket to gaining that short-lived but decisive invincibility, giving you an edge over your rivals.
In this vibrant world of fast-paced surfing, winning isn't everything; it's how you ride that counts! Just like in real life, mastering your board and daringly taking risks can make all the difference – making Aquapark Surfer Race a stand-out among fun games.
All in all, Aquapark Surfer Race is more than just another game - it's an immersive experience that tests your reflexes and decision-making skills under pressure. The deft blend of racing and arcade-style fun makes it a must-try for all gamers. So what are you waiting for? Grab your virtual skateboard and let's ride the tide!
What are the best online games?