Africa Maze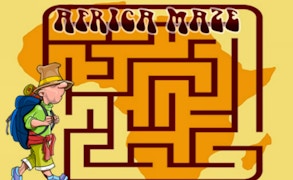 Africa Maze
If you've been hankering for a virtual tour of African historical landmarks while engaging your brain, then Africa Maze is the perfect puzzle game for you. Offering a unique blend of brain games and learning games, it promises not only to keep you entertained but also to broaden your horizon.
This puzzle game sets you up as a tourist on an exotic African journey. However, simply hopping on a plane won't get you to your destination in this game. Instead, you are challenged with navigating labyrinthine mazes and it's not just about finding an exit. Africa Maze provides the thrill of discovery by leading players to famous historical sites across the continent.
The attractive feature about Africa Maze is that it educates while entertaining. Each completed level enriches your knowledge about Africa and its states, offering fun facts that convert obscure trivia into memorable knowledge. It's an innovative approach that couples learning games into intricate mazes, making education enjoyable and rewarding.
In essence, this charmingly designed game offers both mental stimulation and subtle education - getting lost has never been more enlightening or fun. The mazes in Africa Maze are well-designed to challenge even the most seasoned puzzle enthusiast while still being accessible for beginners.
The beautifully simulated landmarks depict the real essence of Africa, which adds depth to the gaming experience on top of providing educational value. Thanks to this ingenious setup, every successful maneuver through a maze rewards you with interesting insights about renowned places in Africa.
If you're looking for an alluring blend of learning games with riveting brain games, look no further than Africa Maze. It promises both fun-filled maze-solving sessions and a fascinating virtual tour around this rich continent - making it not only a game but also an educational tool that appeals to all ages.
What are the best online games?