2048 Magic Hex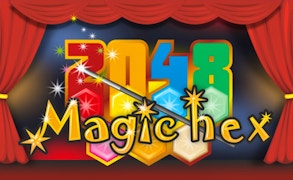 2048 Magic Hex
Description
Dive into the world of numbers with 2048: Magic Hex, a captivating puzzle game that demands quick addition skills and strategic thinking. Your primary goal is to reach the number 2048 but that's not all! You can engage in friendly competition with other players to see who can score more points. Merge numbers intelligently to create larger digits. If you're a fan of number games, this will become your new favorite in no time!
How to play
In 2048: Magic Hex you use your mouse or touchpad to combine numbers on the hexagonal grid. The game progresses as you merge similar numbers, creating larger ones. For instance, two '4's will yield an '8'. The ultimate goal is to create '2048'. However, plan your moves smartly as unnecessary clutter can end your game prematurely. This game also includes a competitive mode against other players.
Tips and Tricks
For higher scores in 2048: Magic Hex, always try to keep your highest digit in one corner. This makes it easier for you to combine smaller digits into larger ones without much difficulty.Also, try as much as possible not to crowd your board and plan your moves ahead.
Features
Fascinating, mind-tickling number puzzles.
Competitive mode against other players for more excitement.
Sleek, user-friendly design and interface.
Perfect for math lovers and enthusiasts of brain games.
An enjoyable way to both pass time and train your brain!
What are the best online games?