Among Shooter Kill Impostor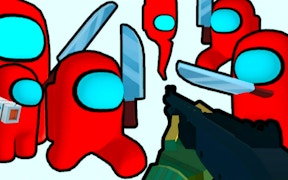 Among Shooter Kill Impostor
Dive into the deceivingly serene cosmos in an intense shooting game called Among Shooter Kill Impostor. This remarkable game plunges you into an atmospheric voyage where you are tasked with freeing a ship that has been overtaken by menacing impostors on the way to Earth.
Considered one of the leading battle games on the current market, Among Shooter Kill Impostor is expertly layering suspense, strategy, and non-stop action into each level. Uniquely, in this game, traitors are not limited to the ground, but they might be lurking above you too! They can sneak around on the ceiling - a devious twist that will keep your senses heightened at all times.
In terms of gun games, Among Shooter Kill Impostor stands out with its extensive arsenal of weapons at your disposal. Pick your favorite firearm and exterminate the enemies in your path. Its vast weaponry options cater to all players' tastes - whether you're a fan of automatic rifles or prefer precision shooting with a sniper gun.
In terms of survival elements, this game also falls under survival games. The exciting thrill of staving off these monstrous impostors gives it a genuine sense of survival horror. This tension-filled environment could also categorize it under the genre of monster games.
The diverse sizes and abilities of traitors amplify the fun and excitement while adding an extra layer of challenge. The adrenaline rush from facing such deadly foes is what makes Among Shooter Kill Impostor truly captivating.
All in all, if you're looking for something thrilling that combines elements from various genres such as gun games, battle games, sniper games, survival games and monster games – look no further than Among Shooter Kill Impostor.
What are the best online games?