Mr Gun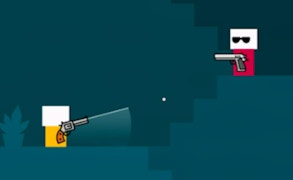 Mr Gun
The world of shooting games has seen a significant addition with the unwavering entry of Mr Gun – a hyper-captivating shot of adrenaline for all those adrenaline junkies out there! If your heart beats for exhilarating gun games, then this game should be on your radar.
'John Wick' meets 'Mobile Gaming' in this fast-paced and action-packed game which is equal parts strategy and instinct. Mr Gun isn't just another number in the list of countless gun games crowding your app store. What sets it apart is its rhythmic flow, the ease of control, and the innovative gameplay that will keep you hooked for hours.
Making use of your sharp shooting skills in this high-octane skill game, you'll find there's no room for error. Mr Gun rewards precision and patience: aim, shoot, kill—and if you miss, pray that your opponent doesn't have better aim than you! Only those possessing a steel heart can survive in this kill or be killed scenario.
The beauty of Mr Gun lies not just within its demanding gameplay but also within its aesthetics—deceptively minimalist graphics that mask an underlying complexity. Like the calm before the storm, each quiet moment serves only as a prelude to more intense combat rounds.
In conclusion, Mr Gun is more than just another shooting game—it's an artistic fusion of strategy and chaos where every bullet counts. If you're a fan of gun games and looking to put your skills to the ultimate test, then it's time to step into the shoes of Mr Gun and let your barrel do the talking.
So gear up, take aim and fire away— success awaits those deft enough to master their weapon in this thrilling addition to skill games.
What are the best online games?
TAGS