Stickman Prison Escape Story 3D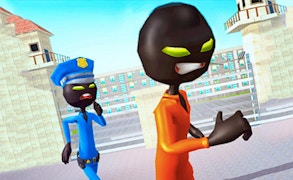 Stickman Prison Escape Story 3D
Dive into the enthralling universe of remote penitentiaries and elaborate escape plans with the captivating Stickman Prison Escape Story 3D. This game, a masterpiece in the action genre, bridges the gap between stickman games, gun games, and escape games, providing an all-encompassing gaming experience.
The game's premise centers around a protagonist who is framed and unfairly imprisoned. The persistent undertone of hope and resilience is a testament to the human spirit. As a player, your role is to help plan an audacious route to freedom. The storyline will pull you in, capturing your interest from the moment you start playing until you finally taste that sweet breath of liberty.
The intense gameplay requires strategy, stealth, and daring execution. One can't help but admire the ingenious controls perfectly optimized for high-intensity action scenarios: arrows or WASD for movement, Space for jumps, Shift for running, Q for somersaults and 1-2 for changing weapons; every control intensifies your connection with your character.
One of the triumphant aspects of Stickman Prison Escape Story 3D is its impressive blend of mechanisms from different genres — a daring tribute to both stickman games, where character control is central; and gun games, where strategic weapon use dictates success. It also beautifully wraps these elements around its core motif: escape—from injustice, from confinement, from despair.
The graphics may seem modest at first glance but offer potent depth upon closer observation - another dimension added to this groundbreaking potpourri of genres. Experience gripping scenarios as you navigate through dreary prison corridors or engage in adrenaline-pumping action sequences.
In conclusion, if you are looking for an immersive gaming experience that marries elements from stickman games, gun games, and escape games, look no further than Stickman Prison Escape Story 3D. A beacon of resilience against injustice wrapped within layers of strategizing and action-packed gameplay—it's more than just a game; it's an experience!
What are the best online games?