Slenderman Horror Story: MadHouse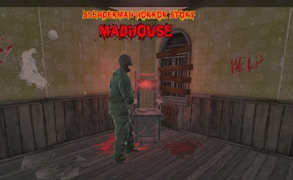 Slenderman Horror Story: MadHouse
Immerse yourself in the spine-chilling world of Slenderman Horror Story: MadHouse, an exceptional addition to the horror games domain that elevates both fear and thrill. Not only is it a member of the fascinating genre of escape games, but it's also combined with elements of survival games, making it a unique hybrid that horror game enthusiasts will undoubtedly appreciate.
The game begins after your narrow escape from the clutches of Slender-man, landing you into an asylum, your mind tormented by lingering doubt - did you really manage to escape? Or is His eerie presence just a fragment of your shattered sanity? You're about to delve into this bone-chilling mystery that will have you on the edge of your seat throughout your gameplay.
Slenderman Horror Story: MadHouse is more than just another one of those scary games; it's a cerebral delve into madness and terror. As you navigate through the unsettling corridors of the madhouse, battling not just terrifying mental patients but also intricate puzzles, this game practically screams survival at every harrowing turn.
This escape horror game accomplishes what many gun games fail to do, adding a strategic and tense element to every encounter. The atmosphere intensifies as each bullet matters; each shot could mean life or death in this madhouse. Each decision counts, each moment matters, making this a survival horror game that dares to push boundaries and redefine conventions.
Slenderman Horror Story: MadHouse, with its perfect blend of psychological horror and adrenaline-fueled action, sets a new benchmark for survival horror games. It's not just about surviving; it's about delving into your deepest fears while trying to make sense of the insanity within and around you. This is escapism at its finest - terrifyingly realistic and utterly captivating.
What are the best online games?