Noise Of Bones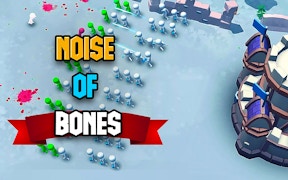 Noise Of Bones
Step into the chilling world of Noise of Bones: Castle Defense, a strategy-rich game that stands tall amidst the plethora of stickman games on offer. With its engrossing gameplay and stunning visual elements, Noise of Bones puts you in the epicenter of intense battle games as you ramp up your defenses to stave off relentless attacks from devilish foes.
This game isn't just about surviving, it's about thriving and demonstrating tactical superiority in a war-torn landscape. One cannot mention war games without acknowledging the strategic brilliance that Noise of Bones demands from its players. It brings together the best elements of archery games and sword games, pushing your attack and defense mechanisms to their absolute limit.
In Noise of Bones, survival is an art form - one that combines tactical warfare with quick reflexes and on-the-spot decision-making. In the sea of survival games, this title distinguishes itself with its array of unique enemies, each boasting unprecedented levels of complexity and danger.
The smooth offline playability aspect is a refreshing touch in an era where constant internet connections are becoming a bothersome necessity. Furthermore, this game thrives in unleashing over 40 different kinds enemies, each armed to the teeth with alien weaponry – ensuring that every battle feels fresh and unnerving.
The power progression within your ranks keeps you hooked while strategically planning against special types of enemies adds another level of engagement to an already riveting experience. Whether you're fortifying your castle, devising optimal defense strategies or launching attacks using distinctive abilities, Noise Of Bones: Castle Defense does not cease to keep you enthralled.
In conclusion, Noise Of Bones successfully merges the thrill found in stickman games with the intellectual challenge present in traditional war games. The result? A mesmerizing blend that keeps gamers coming back for more.
What are the best online games?